Went viral on Facebook: 6 million views and counting!
To achieve greatness in any sport requires natural ability combined with many hours of dedication, often sacrificing many of life's pleasures in order to attain the extra ounce of peak performance that sets you apart from other competitors.
Lauren Barwick
4 Star Parelli Professional
Para-Equestrian
At a very young age Lauren Barwick's mother started her in riding. She attended Pony Club, Three-Day Evented, Fox Hunted, and enjoyed starting and learning how to work with young horses on a breeding farm. As she got older, Lauren rode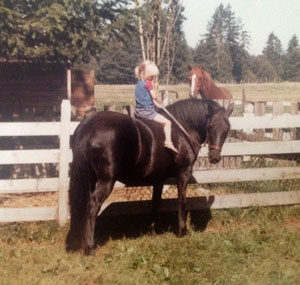 Jumpers competitively and loved it. In High School she found she couldn't really make up her mind about what she wanted to pursue as a career—she only knew she loved the world of Equestrian. Lauren also had a keen interest in the culinary and dramatic arts. She finished high school with her theory Level One chef's apprentice.
After spending many years cooking in various kitchens while still working with the family horses, Lauren decided she wanted to focus on the Movie industry, specializing in Horses. She worked at a studio ranch for six months in an apprentice program, learning about and caring for stunt horses and doing special skills work in feature films such as "The Pledge." She also had an agent and was doing a lot of movie extra work and auditioning for bigger parts. At the end of the program, Lauren was hired to work at the ranch full time.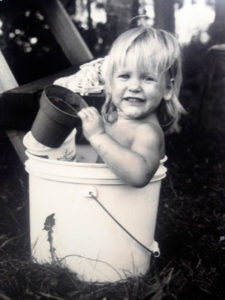 On June 17, 2000, the goals she had set out for herself changed in an instant. While feeding the horses at the studio ranch, a one-hundred-pound bale of hay fell ten feet landing on her back. Lauren had two broken vertebras and a severed spinal cord. It took two screws, a bar, wire mesh and bone from her hip to reassemble her back. She was left paralyzed from the belly button down, with no feeling or movement. You can imagine how distraught she was. For her family it was not much easier for them to deal with as Lauren had always been classified as the semi-normal child. Her brother Cameron was born with a severe brain injury, and her sister Rosemary has Downs Syndrome.
During rehabilitation Lauren decided that she didn't ever want to ride again. She felt that it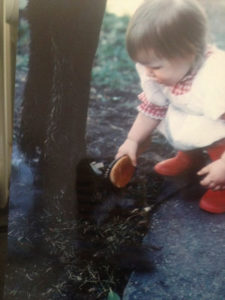 would be embarrassing to be led around in circles. Yes, it may be therapeutic for others but, "It would do nothing for my mind other than make me much more sad." Lauren did want to remain active, so she tried many different sports: tennis, hand-cycling, kayaking, downhill mountain biking and sailing. She was very keen on sailing and spent much of one summer learning how to solo sail. Lauren even got to volunteer and take other children out on the water. This was a very important part of her recovery because she was discovering that she was able to still help others while she was without the use of her legs. At the end of that summer Lauren even started racing sailboats and her competitive side came out.
Back at home after being in rehab, Lauren found herself at the barn. She was teaching students on her own horses, but still too stubborn to get on. While watching another riding lesson, Lauren had a horrible reaction and started to cry heavily. As she tried to wheel away, the coach in the ring insisted it was time for her to get on a horse. Next thing she knew, she found herself being picked up by two people and plopped on a horse.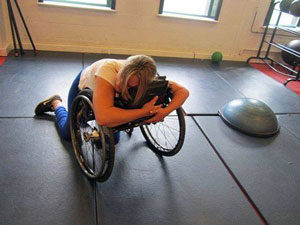 Lauren says, "I won't lie—it was the worst experience I have ever felt. I had ridden horses my whole life and at twenty-two, I had absolutely no sensation of sitting on a horse. I thought that if I sat up I was going to fall down. I was led around in a circle just like I didn't want to be, and I had a pity party in my head."
When she went home that night she knew she had a major decision ahead of her. Was she going to let the gift that was given to her that day go to waste or was she going to swallow big and dig deep and get over her self-pity and feeling of humiliation. The next morning Lauren got up early, went to the barn and politely and shyly asked to be put back on a horse. That day was the beginning of her renewed love of riding.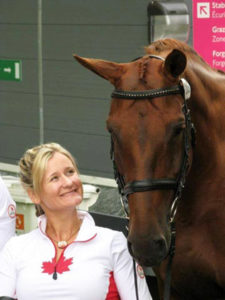 Over the years, Lauren Barwick competed in numerous international events, including the Paralympics in Athens 2004, Beijing 2008, and London 2012 as well as the 2014 World Equestrian Games in Normandy. She was honored with the 2004 and 2014 Canadian Equestrian of the Year awards. She worked for five years at the Royal Bank for Canada; one of those years being a RBC Olympian, which allowed her to do public speaking.
In 2007, Lauren moved to Florida and Colorado to spend quality time at the Parelli Natural Horsemanship International Study Center, where Pat and Linda Parelli sponsored her education. Parelli Natural Horsemanship gave her a solid foundation and the competitive edge with which to compete and succeed. Lauren went on to manage Pat's barn for 6 years and is a Licensed Parelli Professional, 4-Star Senior Instructor.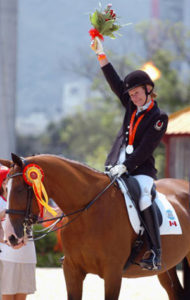 Lauren has gone on to win Gold and Silver medals at the 2008 Paralympic Games in Hong Kong; Silver at the 2012 London Games; Silver and Bronze Medals at the 2014 World Equestrian Games in Normandy. She is currently preparing for the 2016 Paralympic Games in Rio. In addition she competed in and won the 2015 WPR AQHA World Show: Para-Reining Champion. And in 2015 Lauren was honored to be inducted into the Canadian Disability Hall of Fame.
Lauren competes, trains her horses, teaches students, and gives motivational speeches on the Pursuit of Excellence. She believes she is proof that, " People with disabilities play a key role in our society and that they are able to adapt themselves to meet their environment, thus allowing them to lead full and productive lifestyles. Furthermore, I am a testimony to everyone that achieving your dreams is possible."
"To achieve greatness in any sport requires natural ability combined with many hours of dedication, often sacrificing many of life's pleasures in order to attain the extra ounce of peak performance that sets you apart from other competitors. As this Journey unfolds it becomes more and more obvious that so much of what we do, so many of our successes and experiences whether positive or negative, are determined and driven by our minds. I want to continue to be a prime example of how obstacles can be overcome by determination, hard work, positive attitude and support."
ARTICLES
Canadian Paralympian Lauren Barwick Inducted into Canadian Disability Hall of Fame
Lauren Barwick Wins Para Reining at The Para World Reining Championships
Lauren Barwick Paralympic Gold Medalist Equestrian Rider
Lauren Barwick
Lauren Barwick Scores 1st Medal for Canada at World Equestrian Games 2014
Lauren Barwick Finishes in Top Three at WEG during Team Test Competition
Canada's Lauren Barwick Ranked Number One Para-Dressage Rider in World
Canadian Paralympian Lauren Barwick awarded ``Top Foreign Rider`` at Hartpury Festival of Dressage COEDI3*
Canadian Paralympic Medalist Lauren Barwick Chosen as CET Flag Bearer for Opening Ceremonies at WEG
Lauren Barwick Awarded the Inaugural Equine Canada's President's Award